Get the Facts on Duodenal Switch.
Hayley F.
Hayley's Stats
DS Veteran: Hayley F.
Location: TX, USA
Surgery Date: Mar 5, 2007
Surgeon: Daryl A. Stewart, MD
Highest Weight: 346 lbs
Pre-op BMI: 48
Pre-op Weight: 346 lbs
Goal Weight: 177 lbs (BMI of 24.9)
Current BMI: 20.1
Current Weight: 144 lbs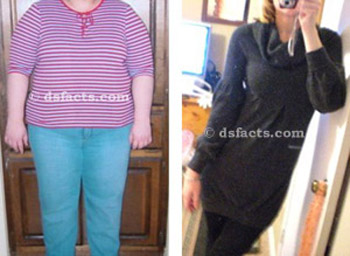 Hayley's Message
I started this journey weighing 346 lbs, wearing a size 24 pant, and 26/28 top. My goals were to get to a size 8 jean (I was determined to get there, even if it was only for a short visit) and to weigh 170 lbs by one year. I surpassed all of these goals!

Progress Report:
(1 week): -30 lbs total
(3 weeks): -40 lbs total
(1 month): -44 lbs total -44 for month
(2 months): -64 lbs total -20 for month
(3 months): -78 lbs total -14 for month
(4 months): -91 lbs total -13 for month
(5 months): -101 lbs total -10 for month
(6 months): -115 lbs total -14 for month
(7 months): -126 lbs total -11 for month
(8 months): -136 lbs total -10 for month
(9 months): -146 lbs total -10 for month
(10 months): -153 lbs total – 7 for month
(11 months): -162 lbs total -9 for month
(12 months): -170 lbs total -8 for month
(13 months): -174 lbs total -4 for month
(14 months): -181 lbs total -7 for month
(15 months): -188 lbs total -7 for month
(16 months): -192 lbs total -4 for month
(17 months): -192 lbs total -0 for month
(18 months): -196 lbs total -4 for month
(19 months): -199 lbs total -3 for month
(20 months): -199 lbs total -0 for month
(21 months): -200 lbs total -1 for month
(22 months): -202 lbs total -2 for month

As I lost weight, I changed my goal weights. I wanted the following:

Normal BMI (must weigh 177 lbs)
Weigh 170 lbs (personal goal 1)
Weigh 160 lbs (personal goal 2)
Weigh 146 lbs (personal goal 3) so I could say that I lost –200 lbs

I reached all my goals. I now weigh 146 lbs, I wear a size 2 jean and Small/Med tops. So I have lost 202 lbs, I dropped 6 shirt sizes, and 11 pant sizes.

I can sit anywhere I want w/out thinking twice about the seating (restaurants, theatres, roller-coasters, planes). I can double cross my legs. I can put my feet up in the theatre seat. I can shop at any store. I can pick an article of clothing off the rack and KNOW it will fit without having to try it on. I'm wearing skirts, shorts, and dresses (I never wore those as a MO person). I'm wearing sleeveless tops for the first time in my adult life. All the discoloration on my skin from being over weight has vanished. I can walk and walk and walk and not get out of breathe or cramp up. I have energy! I am no longer the biggest person in my family. I am the smallest/lightest person in my family now.

I have had no complications or bad side effects. I do not suffer from any bathroom issues and I have no problem maintaining my weight. I lost my weight without ever going on a diet. The DS is a dream come true! For more information about me, check out my profile on ObesityHelp.
Articles by Hayley F.