Get the Facts on Duodenal Switch.
Valerie G.
Valerie's Stats
DS Veteran: Valerie G.
Location: OH, USA
Surgery Date: Oct 31, 2005
Surgeon: Rita Anderson, MD
Highest Weight: 286 lbs
Pre op BMI: 44
Pre op Weight: 272 lbs
Goal Weight: 150 lbs
Current BMI: 25
Current Weight: 148 lbs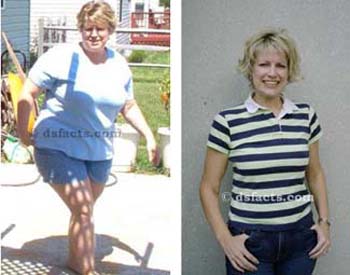 Valerie's Message
How many ways can I say that I love my DS? Once I got over the initial recovery period, losing my weight and keeping it off is easier than I ever imagined, thanks to my DS.

My weight history started with my mom doing fad diets with me starting with my first 'puberty pudge'. This continued with us finding new and creative ways to starve ourselves, while I rarely lost anything despite my best efforts. I was an athlete in high school despite my obesity, and continued to be obese despite my level of activity. I felt very hopeless, and continued to gain weight into adulthood, stopping only when I went back to starving myself again. It was an extremely uncomfortable rollercoaster ride that was my final straw. Add to that my extreme foot pain and chronic back pain, and I wasn't living my life to the fullest. From that day, I started researching wls. It was through my research that I discovered the duodenal switch, and it just made SO much sense for me. The malabsorption is just what my "hold on to each and every calorie" body needed.

Today I'm a whole new woman. My career is reaching new heights, thanks to my confidence and I hate to say it, but my appearance too. Being a corporate trainer, appearances do matter. I feel that today my appearance finally matches my personality. I was able to confirm that one day when I met a gentleman face to face after training him over the Web several times galarson.com. His first statement to me was "you look just as I pictured you to be". To me, I knew that day that I made it! Today my foot and back pain are gone, too. I've never been healthier, and I owe it all to the DS!
Articles by Valerie G.